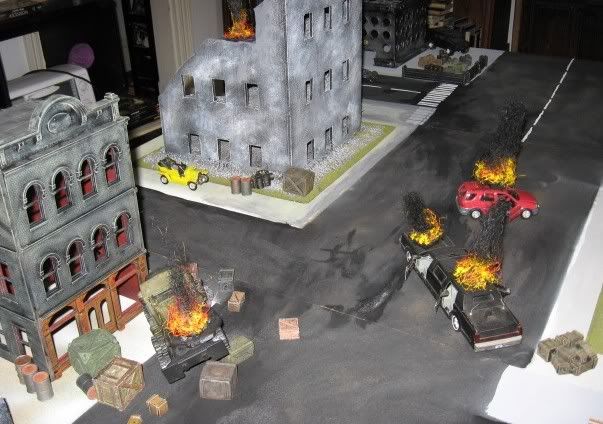 Well the weekend started crappy, my only "good" car's transmission failed while trying to get home on Thursday. My wife and I have another car, but it's for short range travel.
The tires on that car are bad, and will always be bad, because the last owner crashed it and the alignment is screwed. I did get my son this weekend, and we did have a ton of fun gaming and playing on the Xbox 360. I started the weekend by painting table tiles with a city road scape. I'm going to be using this with future zombie games and RIFTS battles.
I have three wood pieces that I cover my folding table with to place my cool grass boards for gaming, I've taken those boards and painted streets and sidewalks.

We even got to play with them this weekend; the first game was a Zombie attack game with Mike's rules from the convention. We had two teams of survivors, looking for other survivors, weapons, ammo, and medical supplies. Both Boys (Jarrett and Brendon) took SWAT teams with some civilians.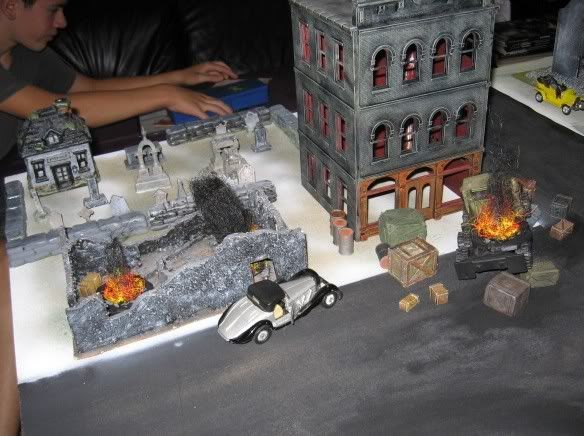 Jarrett even had Lola from The Kinks song, helping out the Police, the idea of my son running a gun totting transvestite, ran chills down my spine…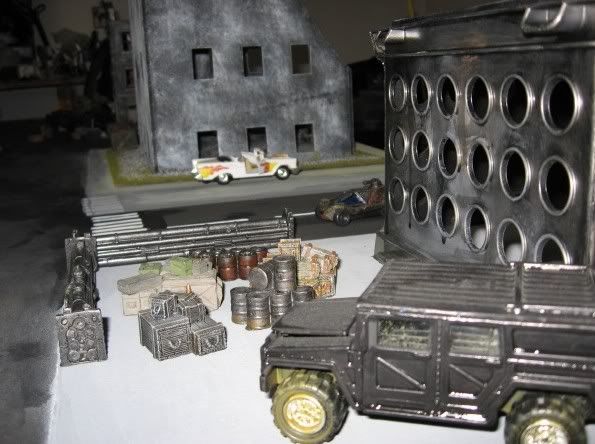 Poor Brendon's survivors had a hard time of it, never playing this type of game, out of five only two survive to escape the city. Jarrett only lost one lone SWAT member, but most made it out finding a working APC and driving across town to help Brendon's troop to escape.
We also went down to The Encounter and played a large Warhammer 40K game, using the apocalypse rules. My Madcat Titan slew many Ork boys, and dreadnaughts, but lost two of its heaviest weapons to incoming fire. Jarrett had a huge body guard for his warlord, all in Mega armor. The destroyed all of my demon troops in close combat, power claws and mega armor are too tough. But, I did pound the hell out of them with heavy weapons from Titans and combat dreadnaughts, Jarrett lost a ton of guys in the buildings were he was taking cover. I don't have pics of this battle, sorry… My Son gave me four Xbox 360 games to play with, Turok, Prey, Gears of War, and a cool racing game…
Here are more shots of the Zombie game! Check out my new fire templates! -Click to make Larger.