Here are some newly painted figures... from http://www.battlegroundweirdwarii.com and Warzone...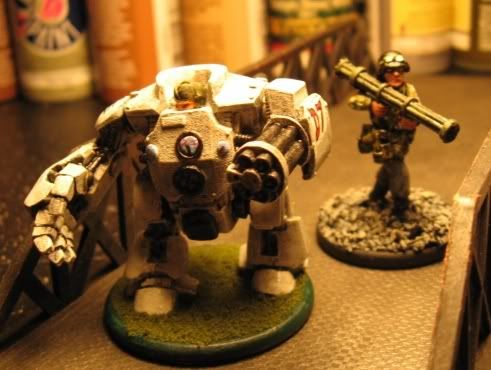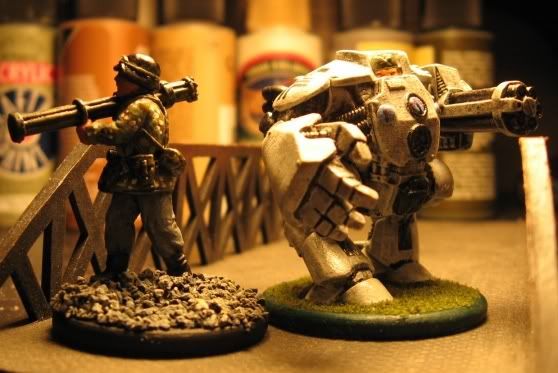 Luftfaust and Battle suit,
My buddy
Kampfgruppe Cottrell, stated this on the forum for rules on this bad boy...


I think when I had those minis(Battle suit) I kept them as a basic infantryman but they would receive a +9 to any damage. They ignore all suppression unless in a 150mm+ blast and their close combat fist gave it a -5 in close combat and a armor penetration of 5 with a +2 to the result. Like John said, any 1 rolled negated the +9 to damage with a additional -2 to the roll. This represents the head being only the real unarmored part of the body.
I also made the weapon a 20mm auto-cannon with a additional die for it's ROF and a Jam rate of 19 or 20. If it rolled 2 Jams in one action the weapon either jammed to where it was disabled or it ran out of ammo. I usually do stuff like this to make Weird War II tech somewhat unreliable and also keeps the players honest so they don't get to confident in their super weapons. You could even make it a 37mm if you wanted, those barrels look pretty big!
By the way, stats for the 20mm and 37mm are in the artillery section and are at the end in the charts of all the German artillery and flak weapons. You'd be tempted but I wouldn't make it the quad 20mm flak, that's a bit to much over kill
If you have any questions about the rules shoot me a message and I'd be happy to help out.
-hopefully i will playing with them soon-