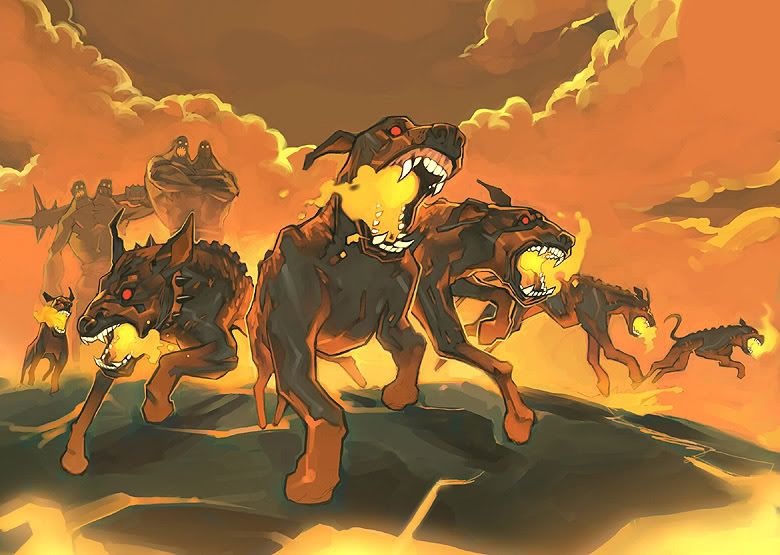 It was a long night of mindtripping through the Neon forevers for me. Had an Epic of all dreams last night. I have no clue what the hell it all means.
There fading fast now, after getting up and driving to work, I can only remember bits and pieces, but a few things stick out. Spooky and I were checking out this small dog. The dog was really tiny, it looked kind of cute, but I knew there was something wrong with it. At one point the dog's head starts to grow, and the mouth bursts with these shark like teeth. The dog starts to attack Spooky, and I grab the thing and throw it against a wall, it rolls over and starts to charge again, and I shoot it in the head. (?) me guns? ah...no. Well anyway, I'm watching this damned dog start to regrow it's head, and I figure it's an Immortal Hell Hound or something. ( My luck) I grab the carcass and take it to a wall that's being repaired in this building. I throw it into the hole, and seal it up before it returns from the dead. Dream shift. I'm not there anymore. It's sometime in the future. Some Police are busting up some kind of party in the same House. The Cops are searching all over to find the kids who are hiding after the Rave was broken up. One of the Cops hears a noise in the walls, and decides to kick in the wall. Releasing a now, larger, hungry, and undead Hellhound. It rips the Cop squad into pieces and goes stalking through the night. There's more to this dream, when I think about it I'll write more....
Part two.
I was going to RCN, for some kind of Costume party. I had rigged up a full Batboy get-up to amuse the fellow agents. But Patrick had out done me by coming as a completely realistic looking Vampire, I was bummed.
Part three.
I was being hunted by the dog. It could not be killed, and was now free to destroyed it's captures. It's body had grown and toughened to look like rotted stone. Black meat hung in lumps off the bone, but the body looked stronger. The maw was rotted away, and yellow teeth and black gums were exposed. Sharper then Katanas and infected with all known ills. This thing was more Horsemen then Hell hound, and it was looking for me. I could feel all the people I had known over the years being killed and dragged away into the darkness. Lights going out all over the world. It's was only me and Kelly left, and the dogs had grown to legion. No hope, no way out, and the howling of the dogs....
Part four.
Walking in the darkness....
No one left, I tried to save Kelly, but she fell into a pit and I could hear her screams and the ripping of bloody meat. I had a cross in one hand and a Magnum in the other. The Sun was rising, and I was walking up a hill. I looked upon the world from there and I could see the devastation for miles. Everyone was dead. Fires burning out of control, and movement of the hell Hounds in the ruins. I sat down hard and kissed the cross, then put the gun to my head. (BEEP BEEP BEEP).... good morning....